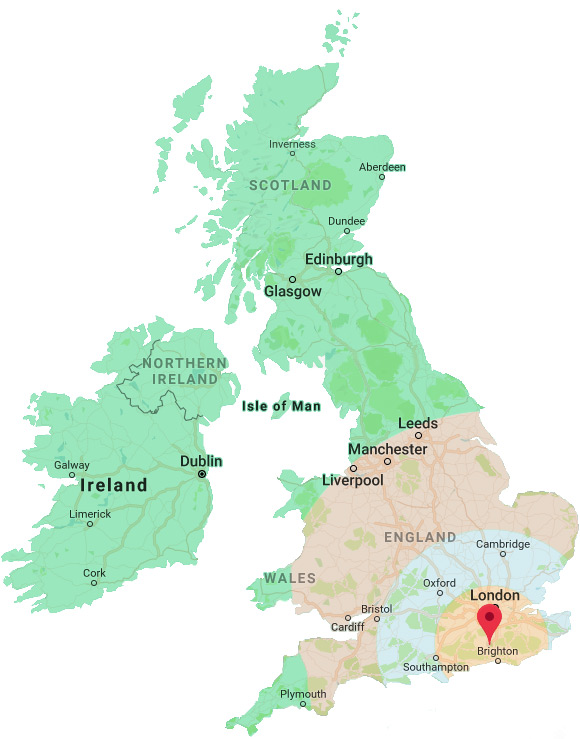 Delivery Policy
Garden Timber Online is committed to making things easy – by delivering beautiful and functional timber products direct to your door whilst keeping our delivery costs at a minimum.
Where do you deliver to?
We can deliver to almost anywhere in the mainland United Kingdom. At present we are not delivering to Northern Ireland and the Republic of Ireland. If your request is for the Channel Islands or Isle of Man we strongly recommend that you contact us prior to making any bookings.
We don't usually ship orders to Continental Europe, however if you'd like to make a special request, we may be able to arrange it. Please get in touch prior to placing your order so that we can quote you an accurate cost of delivery.
You can telephone us on 0203 1375 159
or send an email to sales@gardentimberonline.co.uk
Can I collect my order?
Our nursery in Southern England is a wholesale warehouse and is not generally open for public visits. However, if you would like to collect your purchases from us directly, please get in touch to arrange an appointment.
You can telephone us on 0203 1375 159
or send an email to sales@gardentimberonline.co.uk
How quickly can you deliver?
We aim to dispatch orders within 3-5 days if the product is currently in stock at our UK warehouse. Delivery of items sourced from our production facility usually take between 7-20 days to arrive.
During the spring and summer seasons, we operate a regular shuttle between our production facility and the UK warehouse departing every 2 weeks. During the autumn and winter seasons, this movement of stock is less frequent and we schedule according to geographic location.
How do you deliver?
In order to deliver your purchases in the most cost efficient way, we use a small fleet of our own dedicated drivers. Larger items that need unloading using a hyab crane require special delivery using a specialised transport company.
How much will my delivery cost?
When you reach the Online Checkout Page, our website will automatically calculate the lowest possible delivery price based on the size, weight and quantity of your purchases as well as the location of the delivery address. The website will also automatically apply discounts to orders depending on the product types and volumes – thereby giving you the best value delivery every time!
Courier Delivery of Small Items
Any individual purchases of less than 20 kg in weight and less than 50 cm in height and that are suitable to be packaged in a box, may be shipped using a 24 Hour courier service such as DHL, DPD or APC depending on your location.
The cost of these deliveries a minimum of £15 per package but will be indicated at checkout.
Delivery to locations more than 100 miles from our UK Nursery
Wherever possible, we usually use our own delivery vans.  For orders travelling less than 100 miles from our UK Nursery (near the town of Horsham in Surrey). Deliveries beyond this 100 mile radius will be sent using the courier services explained above.
Delivery of Large or Heavy Items less than 200 miles from our UK Nursery
If your order contains a number of heavy and/or bulky items, it may not be cost efficient to send them via an external courier service such as DHL, DPD or APC. Instead, we operate a few of our own large-wheelbase vehicles such as Mercedes Sprinter and Ford Transit Luton vans to fulfil orders than are less than 200 miles from our UK Nursery (near the town of Horsham in Surrey).
If your order contains items that are more than 200cm in height, or multiple heavy items, then the most practical (and cost effective) method of delivery is to use our own vehicles. Your delivery cost will be calculated based on the fuel consumption of the vehicle and the daily wage of our delivery driver
The cost of these large deliveries is usually between £200 – £400 per order.
What is your delivery process?
After you place an order with us, we will keep you informed about the status of your order. We will attempt to contact you at least 24 hours before your planned delivery date to confirm that you are ready to receive the delivery and to arrange a 2 hour time slot for delivery.
Our driver will deliver your order to the most suitable access point at the property and unload your items to a convenient place outside your property. Due to insurance restrictions currently in place our drivers are not allowed to enter into properties.
If you are not present at the time of delivery, our driver will still fulfil your order if it is safe to do so. You can confirm delivery to the property next door, or to a similar named safe location by contacting us beforehand.
If you foresee any possible problems or difficulties to the delivery of your purchases, (such as potential problems with SatNav if you live on a new property development or in a remote location) please do not hesitate to contact us in advance so that we can make appropriate arrangements in order to ensure the smooth arrival of your items.
You can telephone us on 0203 1375 159
or send an email to sales@gardentimberonline.co.uk
What if I missed my delivery?
We always attempt to contact our customers before dispatching an order – to confirm that you are ready to receive the delivery, to arrange a 2 hour time slot and to agree upon a safe and suitable place to unload your items at the property.
In the unlikely event that a delivery cannot be fulfilled due to circumstances beyond the control of Garden Timber Online and which are dependent upon responsibilities of the customer, it may be necessary to arrange a second delivery at extra cost to the customer.
What if there's something wrong with my delivery?
We take customer service very seriously and will do everything in our power to rectify mistakes and replace missing or damaged items.
Please contact us within 48 hours of delivery by sending an email with details of your concern to: customerservice@gardentimberonline.co.uk
or you can telephone us directly (Monday to Friday) on: 0203 1375 159
Your claim may be rejected if we do not hear from you within 48 hours of your delivery date.
What if I still have more questions?
You can telephone us on 0203 1375 159
or send an email to sales@gardentimberonline.co.uk
Legal Statement
All delivery times quoted throughout this website are estimates only and whilst we will endeavour to meet or beat them, they cannot be guaranteed.